How Can An ICO Development Firm Assist You In Effectively Launching An ICO In 2023?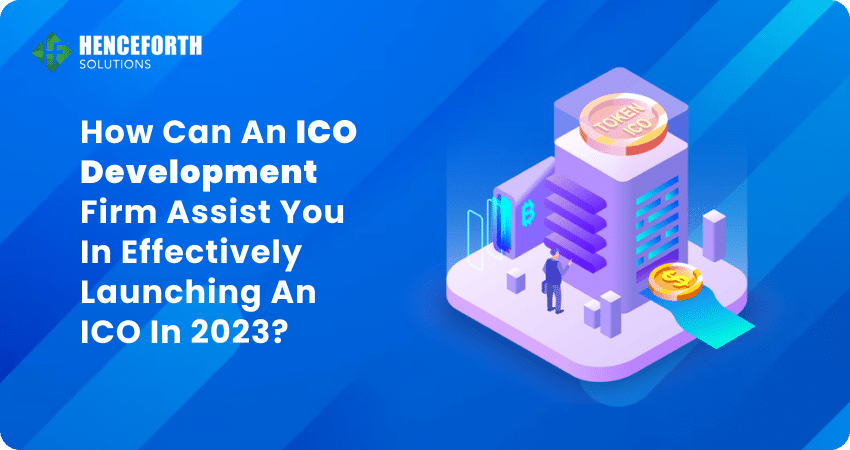 In recent years, ICO development has become very pivotal as Initial Coin Offerings (ICOs) have become a popular fundraising method for startups and businesses looking to raise capital through the sale of digital tokens.
Everyone is familiar with the Initial Public Offering (IPO) in the share market and how companies raise money for their expansion. Crypto is the future and more and more companies are trying their hands at developing their coins and making transactions more secure and advanced than ever.
What is ICO Development?
It is based on blockchain technology and the crypto industry's alternative for the IPO of the share market. If any business is aiming to launch a cryptocurrency and running out of budget, ICO can help them take their business to the next level.
An initial Coin Offering (ICO) is launched to raise money or funds in the cryptocurrency world. A company can use raised money to create a new crypto coin or get an app for their business operations.
Importance of ICO development
Initial coin offering development is significant since it allows firms to expand quickly and without having to spend a lot of money. Users can invite investors from all across the globe to invest in their business model with this.
ICO is a cost-effective method for fundraising and it follows a decentralized method for it. Without any high costs, businesses can save time and gain money from all across the globe. ICO can be very helpful in fundraising for businesses for crypto development.
Additionally, businesses can raise funds without the involvement of intermediaries and government authorities. This gives businesses more control over the fundraising process and reduces the risk of interference or manipulation from third parties or organizations.
Increased fund control makes it simpler to sell and buy token options. If a business is aiming to raise funds quickly, ICO can be very useful as it gives businesses more liquidity and it is very useful for businesses.
Process of ICO Development
Many startups and businesses are looking to launch ICO effectively. It is only possible with a foolproof strategy, extensive technical knowledge, marketing expertise, and experience in the field.
Here is the complete process where ICO developers can help:
Ideation and Validation
The first step in launching an ICO is ideation and validation. A team of expert blockchain consultants can assess the idea to validate its feasibility, viability, and desirability. This process involves an in-depth analysis of the concept and its potential in the market. Our team can also provide recommendations on how to enhance the project's strengths and overcome any weaknesses.
White Paper/Light Paper Creation
A white paper or light paper is a crucial component of any ICO project. It is the main document that communicates the vision, technical details, and potential of the project to the target audience. Professional technical content writers can generate compelling content that effectively communicates the project's vision through a white paper or light paper. This content should be relevant, precise, and convincing as the audience will invest on that basis.
Landing Page Design
The landing page is the first point of contact between the potential investor and the project. It is essential to make an excellent first impression. Talented designers can craft an informative and visually appealing landing page, taking care of the user interface and user experience during website development. The landing page should be easy to navigate, visually appealing, and provide all the necessary information about the project.
Pre-ICO Marketing
The goal is to generate interest and excitement around the project before the ICO launch as it plays a crucial role in the success of any ICO project. Experienced digital marketing specialists can deliver powerful branding and messaging across various digital marketing channels. This strategy can include paid advertising, influencer outreach, content marketing, and social media marketing.
Token Development
Tokens are digital assets that represent a unit of value in a project. Proficient blockchain developers can build custom tokens on the preferred standard, ensuring the tokens are secure and tradable. The token should be designed to align with the project's goals, and its supply and demand should be carefully managed.
Wallet Development
After the ICO launch, investors need a secure and flexible wallet infrastructure to store and manage their tokens. A team of ICO developers can provide a secure and flexible wallet infrastructure, reinforced with multi-cryptocurrency support, to allow for easy sending, receiving, and storing of tokens. The wallet should be user-friendly and have robust security features to prevent theft and hacks.
Post-ICO Marketing
After the ICO launch, it is crucial to keep the users coming to your platform. Multi-channel marketing is used to build a community of investors and engage potential investors. Building a community around the project can also help to get feedback, improve the project, and generate new ideas even after the launch of ICO.
How Can an ICO Development Company Can Help in Effectively Launching
As the popularity of blockchain technology and cryptocurrencies continues to grow, more and more companies are turning to Initial Coin Offerings (ICOs) to raise funds for their projects. However, launching an ICO can be a challenging process, and partnering with ICO development services can help you effectively navigate the process.
Here are some of the ways an ICO development firm can assist you in a hassle-free launch and raising funds:
Technical Expertise
An ICO development firm has a team of experienced developers who specialize in blockchain technology, smart contract development, and cryptocurrency integration. They can help you develop a secure and reliable ICO platform that complies with all legal requirements and regulations.
Market Research
An ICO development firm can assist you with market research and analysis to identify the best marketing strategies and tactics to attract investors. They can also help you create a compelling whitepaper that outlines your project's vision, mission, and objectives.
Marketing Strategy development
Marketing is critical to the success of an ICO. An ICO development firm can help you create a comprehensive marketing strategy. They can also help you identify the best advertising platforms and channels to reach your target audience and generate maximum exposure for your ICO.
Community Building
Building a strong community of supporters and investors is essential for the success of an ICO. An ICO development firm can help you build a community by creating a dedicated website, social media channels, and forums for discussion. An ICO software development company that has experience can help with getting a strong community.
Legal Compliance
There is no legal control over the currency or the ICO but it involves legal compliance with regulatory bodies. An ICO development firm can assist you in ensuring that your ICO complies with all legal requirements and regulations. They can also help you obtain legal advice and guidance to navigate the complex legal landscape of ICOs.
Smart Contract Development
Smart contracts are essential for launching an ICO as they automate the process of token creation, distribution, and management. An ICO development firm can help you develop smart contracts that are secure, efficient, and auditable.
Token Distribution
An ICO development firm can help you develop a token distribution strategy that ensures that your tokens are distributed fairly and transparently. They can also help you manage the token sale process and ensure that all transactions are secure and compliant with regulations.
Post-Launch Support
An ICO development firm can provide post-launch support to ensure that your ICO is successful in the long term. They can help you with the token listing, liquidity provision, and community management to ensure that your project continues to grow.
Start Your Digital Fundraising Journey With Top ICO Development Agency

Launching a successful ICO can be a challenging and complex process that requires a significant amount of expertise, resources, and planning. Henceforth Solutions is one of the most trusted ICO development companies that can help you with effectively providing your initial coin offering.
Being a leading ICO token development company, we are here to meet your fundraising goals and launch an ICO efficiently. Our experience and knowledge in the field from conducting market research and developing a solid business plan to designing and executing an effective marketing strategy can help you.