Exploring the Future: How Google's AI-Powered Search Revolutionizes Online Discovery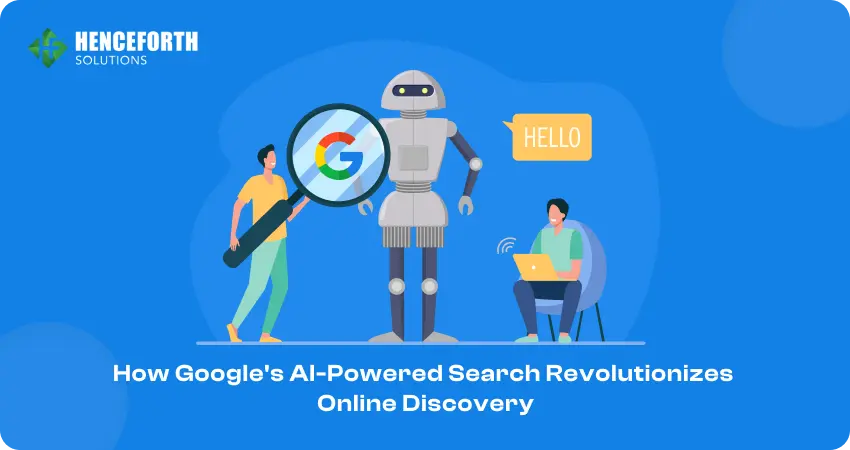 The world of business is totally reliant on search engines. It is one of the best ways to get organic reach and grow in a cutthroat, competitive era. Every business is using artificial intelligence for improving workflow and streamline operations and it is nothing strange for search engines as well.
As user convenience is a priority, Google is also focused on delivering the same. There is no doubt that Google leads the way in terms of innovation when it comes to search engines and their capabilities, and now it is launching a new method. Google is adding AI to the search results, and it is aiming to shape the world of online discovery.
What do you need to know about Google's AI-powered search engine project Magi?
Google is working on an Google's AI-Powered Search engine project called Magi for enhancing user experience with search queries. This search engine will have many features that will help users with personalized responses, resulting in quick query resolution and saving time. Google is planning to release Project Magi as soon as possible and employed more than 160 developers on this.
It will have all the features of the Google search engine and there will be more features based on AI. As Microsoft Bing makes use of OpenAI's ChatGPT integration and utilizes AI capabilities, Google is aiming to stand toe-to-toe against this using Project Magi. The main motive of this is to generate more accurate results on user queries and meet user expectations.
What to expect from Google's AI Project Magi?
It is expected that it will transform the way we are dealing with search engines. There is no official announcement but we can expect that it will have every capability that comes with AI. Here are some features that we can anticipate in Project Magi:
Chat like interface
Google always focused on delivering the best possible user experience and resolving user queries easily. With AI-powered search capabilities, it will give a chat-like interface so users can get personalized content and answers. With real-time interactive features, Magi will boost credibility and users can get exactly what they want from a search engine.
While learning from previous prompts and search queries, Magi will provide users with precise results. With a chat-like interface that presents a human-like discussion, it will learn from previous conversations and only provide users with the answers they need. As AI is limited and is in the trial phase, it is not possible to use it for every query asked but it will be the ultimate solution for the majority of user searches.
Streamlined Transactions
Google is also impacting digital transactions and it is one of the leading names in many countries around the world for streamlining digital transactions. With Project Magi, Google will establish a presence in the payment management industry. With Project Magi launching, Google will manage the transactions on the search platform Magi, eliminating third-party payment integration requirements.
It will help in every process that involves financial transactions. Magi's AI capabilities will elevate the Google Ads experience for businesses and they will be able to manage payment in a better way. This process will help with everything that includes financial transactions from a search result. It will make booking flights, trains, and making shopping transactions simplified in a couple of clicks without leaving the search engine.
SEO Perspective
Magi will have all the powers of artificial intelligence but it is not possible to give personalized results to every user query. There will be search results for complex queries and it will show search results pages with quality content. SEO optimization will impact the results in the Magi search engine and it will be a dominating factor.
Google will display products for shopping-related searches and with a good SEO strategy, businesses can showcase their products directly on the search results. With proper product or service optimization, it will boost the business for the better and prove to be the future of search engines. It's also a possibility that Google might keep a portion of the profit from each sale generated by the AI-powered Magi search engine.
What is Bard?
Bard is an AI chatbot created by Google and it is possibly the only and fiercest competitor of ChatGPT. It is a helpful tool for online discovery and helping users find relevant information. Although it is not the best option for getting search results with SERPs, it can provide useful information. Bard can be a quality platform for prompt-based results as it can give comprehensive responses with pre-fed data.
Bard is a Large Language Model (LLM) and it is trained on a heavy text dataset and information. It can be a great tool for assisting users in online searches. It was launched to counter ChatGPT and is still in development. It can be used for many purposes like generating text, translating languages, and answering questions in an informative way.
Benefits of Bard
Bard can perform tasks based on user instructions and give comprehensive answers to user prompts. Even if the prompt is open-ended or incomplete, it can still give quality results with informative and engaging content. It can also help with creating creative content other than through online discovery. It does not have any traditional search engine capabilities and it is not the best option for getting results based on SEO.
It can provide updated information as Google is constantly feeding the information to make it better. It can be a better option than ChatGPT as far as relevancy is concerned. All the systems of Bard work online, making it more accurate with information.
Bard offers human-like conversation and excels at understanding natural language prompts. It can reduce the reliance on the search engine as users can get relevant, comprehensive information with just a prompt without any website or link from the SERP on Google's search engine platform. It also works with voice commands, so users can get the best information at their convenience and get help with online discovery.
Google's Dominance and Future of Search Engines
Google's dominance in the search engine industry is in danger since Microsoft Bing's integration with OpenAI's ChatGPT. With its AI powers, Magi will add to Google's search capabilities as it will be able to learn exactly what a user needs based on the searches they make.
Google search results account for over 90% of overall searches, and it is one of the best options for online discovery. Google wants to stay dominant with AI-based search engines and aims to implement Magi as soon as possible. Magi will soon be released in the US to one million users to enhance query-based interactions. After the release, it will be clear how it can change the way search engines work.
Google and its developments in artificial intelligence
With this AI-based search engine, Google is making an intense push to maintain its leadership position and dominance in the search engine market. Google is not limited to Google's AI-Powered Search engines. It is also aiming to implement an image generator named GIFI, based on the language learning system Tivoli Tutor, which will easily integrate with Google's Chrome browser.
Leverage AI Capabilities for Your Business
Every business is utilizing the powers of modern technology to stay ahead in this competitive age. There is no better time than now if you want AI and the latest tech stack to benefit your company. With this, you can have a solid online presence with quality features and unparalleled performance.
If you want to take advantage of the potential of cutting-edge technology like AI, get in touch with Henceforth's AI specialists. We'll provide you with a highly optimized strategy that's personalized to your company's requirements. enabling you to offer each user of your business platform a customized experience. Contact us now to get started with a future-proof strategy and advanced tech stack.